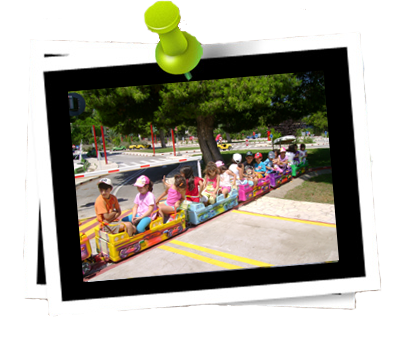 The park is approved and suggested by the Ministry of Education (Circular Γ7/21558/1-3-05) for educational school visits.
Due to its special design the main road safety park is one of the best and more complicated of its kind on a worldwide basis.
29 traffic lights controlled by a complicated control centre offer 4 different difficulty levels depending on the age of the driving children.
Ministry of Environment holds exclusively the traffic lights centre's maintenance and support.
In the main park, Elementary and High school students are trained by driving the petrol driven mini cars.
During Kindergarten and nursery school visits the main park is used for initially familiarizing students with road traffic elements (traffic lights, traffic signs, road lining etc) without the presence of the petrol driven mini cars.
Students split in small groups and circulate on foot in the main park for covering the theoretical part of the educational program via involvement, participation and play.
Afterwards all groups are gradually leaded to the secondary road safety park –specially designed for children 3-6 years old- for their practical training by driving the smaller electrically driven mini cars.
Children via driving perceives and understand the importance of road safety, by learning by doing and not by accumulating barren information.
Multi level road safety training in the park has recently enriched with a train junction.
Elementary and secondary school children cross over a train junction (barriers with noise and visual alarm) as they drive, while kindergarten and nursery school students ride the electrical train as passengers.
The park visit 15.000 students every academic period.
In order to avoid overcrowding, student groups pass gradually from the secondary road safety park for practical training. In the meantime the other groups -always supervised by experienced trainers- are engaged in other activities in the park:
Renewed train wagon for resting and consuming food students bring from home or buy from the canteen
Football ground (5X5) with 4th generation flooring where students involve in plays with balls and cones guided from the trainers
Basketball ground and ping-pong
Playground with inflatable games
Electrical mini train
An additional choice exists for a guided tour -without any charge- in the Institution premises (the Institution for children with special needs "Pammakaristos" operates under the supervision of the Ministry of Health) in order for the students to meet children with knowledge and mind minorities and understand the effort, the professionalism and mainly the patience needed for supporting them.
The attempt for reducing road accidents should commence from the small ages if accompanied with strong elements of play in order to be easily accepted from the children.
School visits take place during morning hours, all working days. Dates are arranged via telephone scheduling during the academic period (usually during the first weeks).